EQAVET Peer Reviews
The National Reference Points (NRPs) in the EQAVET network are requested to conduct so-called peer reviews at system level on the basis of the overarching Council Recommendation on Vocational Education and Training.
The new format is intended to strengthen the supranational exchange in the field of quality assurance in vocational education and training in the European area, to provide more transparency and to set new impulses for further development in the subject area.
A manual (see document) developed by the EQAVET Secretariat in 2021 on behalf of the EU Commission provides a conceptual framework with regard to the timing and methodological approach. On this basis, EQAVET NRPs have been organizing relevant national peer reviews since 2022.
The aim of the peer review format, which is new for the EQAVET network, is to enable thematically focused processes of supranational exchange. Accordingly, an intensive preparation of the peer review process, which among other things includes meetings that build on each other, is a binding component of the concept. The preparation includes a thematic self-assessment report to be prepared by the host country and a concept note explaining the host country's rationale for focusing on a particular topic. These documents, along with other inputs (presentations, materials, Q&A sessions), help peers prepare for the content. After a series of digital preparation meetings, up to ten peers from five European countries come together for a main meeting. There, feedback on the topic is jointly developed and subsequently handed over to the host country.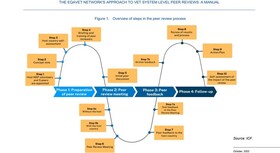 Afterwards, the host country continues to work with the peer feedback. An overview of the whole process can be found in the graphic on the left.
Below you will find the event documentation of the German peer reviews:
Peer Review Germany 2022
Quality assurance in continuing vocational education and training — the German Reference Point for Quality Assurance in Vocational Education and Training, DEQA-VET for short, conducted a peer review on this topic for the first time this year.